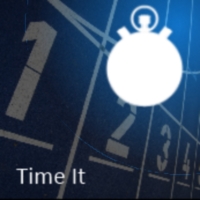 Time It - for Windows Phone 7

A stopwatch with lap and split times capability. When run in lap time mode, the current and the best lap times are displayed.

The application adapts nicely to the current theme, and continues to run when interrupted by a phone call or while switching to another application – it even measures the time accurately after the phone has been switched off.

The lock screen can be disabled by a single tap.

Features:
● Takes lap times or split times.
● Displays current and best lap times.
● Keeps running even when navigated away from.
● Can prevent the built-in lock screen from showing.
● Adheres to current theme.
● Supports portrait and landscape orientation.

The free trial version offers up to one minute of time taking.